San Antonio Rotary
San Antonio Rotary Club
Meeting every Tuesday noon in the Clubhouse
at Tampa Bay Golf & Country Club.

Visitors always welcome.

Officers for 2012-13: President, Janice Klein

President Elect, Betty Burke

Past President, David Waite

Secretary, Rozanne Ritter

Treasurer, Charles Savio

Sergeant at Arms, Susan Robinson

Mailing Address: P.O. Box 1138, San Antonio, FL 33576

Upcoming activities: Saturday, September 29, Paws in the Park
(selling hot dogs, of course)

Saturday, October 20, Rattlesnake Run

Rotary International 2012-13 Motto: Peace through Service
About Rotary
Rotary is a worldwide organization of business and professional leaders that provides humanitarian service, encourages high ethical standards in all vocations, and helps build goodwill and peace in the world. Approximately 1.2 million Rotarians belong to more than 32,000 clubs in more than 200 countries and geographical areas.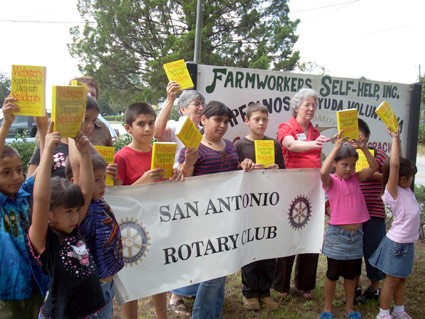 Programs
As of 30 June 2006 in US$ — 2005-06 data unaudited
PolioPlus. Rotarians have mobilized by the hundreds of thousands to ensure that children are immunized against this crippling disease and that surveillance is strong, despite the poor infrastructure, extreme poverty, and civil strife of many countries. Since the PolioPlus program's inception in 1985, more than two billion children have received oral polio vaccine. To date, 210 countries, territories, and areas around the world are polio-free and, 134 have been certified. As of June 2006, Rotary has committed more than $595 million to global polio eradication. 2005-06 awards: $24.9 million.

PolioPlus Partners is a program that allows Rotarians to participate in the polio eradication effort by contributing to specific social mobilization and surveillance activities in polio-endemic countries. As of 30 June 2006, clubs in 478 districts have participated in 441 PolioPlus Partners projects, supporting National Immunization Days and other polio eradication activities around the world.


Health, Hunger and Humanity (3-H) Grants fund large-scale, two- to four-year projects that enhance health, help alleviate hunger, or improve human development. Since 1978, 287 projects in 75 countries have been funded at a cost of $74 million. In 2005-06, 11 new projects were approved. Program awards were $3.1 million.
Matching Grants provide matching funds for international service projects of Rotary clubs and districts. Since 1965, 24,000 Matching Grant projects in 167 countries have been funded at a cost of more than $257 million. In 2005-06, 2,016 new grants were approved for projects in 126 countries. Program awards were $33.1 million.
District Simplified Grants support the short-term service activities or humanitarian endeavors of districts in communities locally or internationally. This program began in 2003-04 and 1,168 grants have been approved for projects in 57 countries totaling more than $17 million. In 2005-06, 396 grants were approved. Program awards were $5.2 million.

Individual Grants support the travel of individual Rotarians, spouses of Rotarians, Rotaractors, and qualified Foundation alumni who are planning or implementing service projects. This program began in 2003-04 and 877 projects in 93 countries have been funded at $3.5 million. In 2005-06, 191 grants were approved. Program awards were $800,000. In October 2005 this program was retired and has been replaced by Volunteer Service Grants.

Solidarity in South Asia. Shortly after the deadly tsunami struck south Asia on 26 December 2004, The Rotary Foundation established the Solidarity in South Asia fund to assist Rotarians in supporting long-term recovery efforts in affected communities. In 2005-06, program awards were $400,000.
Disaster Recovery. Created in 2005-06, this program allows Rotarians to contribute funds in response to specific disasters. During 2005-06, TRF administered three Disaster Recovery sub-accounts: Hurricanes Stan and Wilma (Guatemala and Mexico), Hurricane Wilma (USA), and the Earthquake in India and Pakistan. Total contributions to the three sub-accounts were $1.2 million. In 2005-06, total awards were $1.6 million.

Rotary World Peace Fellowships. Each year up to 60 scholars are sponsored to study at one of the six Rotary Centers for International Studies in peace and conflict resolution for a master's-level degree. Since the program's inception in 2002-03, 233 fellows from 60 different countries have participated at a cost of almost $14 million. In 2005-06, 53 peace fellows from 25 countries began studies at the six Rotary Centers totaling $2.9 million for the two-year program.

Ambassadorial Scholarships. The Foundation sponsors one of the largest international scholarship programs in the world. Scholars study in a country other than their own where they serve as unofficial ambassadors of goodwill. Since 1947, more than 47,000 scholars from 110 countries have received scholarships at a cost of more than $476 million. In 2005-06, 731 scholars from 59 countries studied in 60 countries. Program awards were $14.8 million.

Rotary Grants for University Teachers are awarded to faculty members to teach in a developing nation for 3 to 10 months. Since 1985, 431 university teachers have shared their expertise with a college or university in a developing country at a cost of more than $4 million. In 2005-06, 25 university teachers from 6 countries taught in 19 countries. Program awards were $300,000.

Group Study Exchange (GSE). These annual awards are made to paired Rotary districts to provide travel expenses for a team of non-Rotarians from a variety of professions. Rotarian hosts organize a four- to six-week itinerary of vocational, educational, and cultural points of interest. Since 1965, more than 57,000 individuals (almost 12,000 teams) from 100 countries have participated at a cost of more than $92 million. In 2005-06, 543 teams traveled abroad. Program awards were $3.9 million.